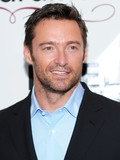 How tall is Hugh Jackman?
Here you find the height of Hugh Jackman.
The height of Hugh Jackman is
6ft 1.6in(187cm)
Do you think Hugh Jackmans height is incorrect? Please tell us by leaving a comment!
Top 10 celebrities:
| | | |
| --- | --- | --- |
| slightly shorter (186cm) | same height (187cm) | slightly taller (188cm) |
Comments
Clark
2012-12-30
Hugh is close to 6'2" and his small head and long arms help the very tall appearance. He could be 6'2" and 1/4"....Nice fellow and very amiable to fans.
2013-01-03
189cm
2013-01-04
SAW HIM ON OPRAH THE LAST YEAR OF HER SHOW WITH NICOLE KIDMAN AND OPRAH ASKED HUGH HOW TALL HE WAS, AND HE SAID I AM 6'4". WHAT A LIAR.