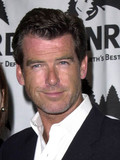 How tall is Pierce Brosnan?
Here you find the height of Pierce Brosnan.
The height of Pierce Brosnan is
6ft 1.2in(186cm)
Do you think Pierce Brosnans height is incorrect? Please tell us by leaving a comment!
Top 10 celebrities:
| | | |
| --- | --- | --- |
| slightly shorter (185cm) | same height (186cm) | slightly taller (187cm) |
Comments
Clark
2012-12-30
He use to be listed as 6'2" and then 6' 1'' ....In the movie "Mama Mia" his fellow male co-stars who are listed at 6'1" and 6'2" --had a definite edge on him. Pierce has a tall build, but he is more like 6 feet even. Looks can be deceiving.