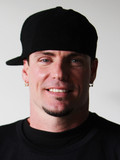 How tall is Vanilla Ice?
Here you find the height of Vanilla Ice.
The height of Vanilla Ice is
6ft 2in(188cm)
Do you think Vanilla Ices height is incorrect? Please tell us by leaving a comment!
Top 10 celebrities:
| | | |
| --- | --- | --- |
| slightly shorter (187cm) | same height (188cm) | slightly taller (189cm) |
Comments
2012-07-09
He played a show here in Lawrence KS and I rode in an elevator with him and delivered a pizza to him...he was about my height which is 5'6, so I am not buying the 6'2!