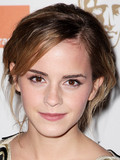 How tall is Emma Watson?
Here you find the height of Emma Watson.
The height of Emma Watson is
5ft 6.1in(168cm)
Do you think Emma Watsons height is incorrect? Please tell us by leaving a comment!
Top 10 celebrities:
| | | |
| --- | --- | --- |
| slightly shorter (167cm) | same height (168cm) | slightly taller (169cm) |
Comments
lady
2012-05-28
She can easily look tall in platforms next to 5'5" Daniel Radcliffe and 5'7.75" Rupert Grint...I actually believed she was 5'6", just until I saw her in flats next to Daniel, and she barely looked 5'3".

She's so tiny! http://emmaw.org/image/displayimage.php?album=464&pid=28551#top_display_media
I think she's no over 5'4".
AllLifeLongx
2012-06-11
SHE'S 5'3" OR 5'4", I SAW HER NEAR ISLINGTON TWICE LAST YEAR