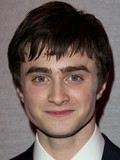 How tall is Daniel Radcliffe?
Here you find the height of Daniel Radcliffe.
The height of Daniel Radcliffe is
5ft 6.1in(168cm)
Do you think Daniel Radcliffes height is incorrect? Please tell us by leaving a comment!
Top 10 celebrities:
| | | |
| --- | --- | --- |
| slightly shorter (167cm) | same height (168cm) | slightly taller (169cm) |
Comments
Derek
2012-05-14
he has said himself many times he's 5'5 (though he may be a little shorter, hard to tell as hes so slight, but either way his height should be reduced to 5'5)
lady
2012-05-28
According to himself, he's 5'5".
here's the video. Listen at 1:16 http://www.youtube.com/watch?v=X5SrzRRAxBc

Anyway I don't think he's much shorter than what he claimed, but it is possible he rounded up half a inch.