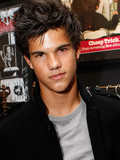 How tall is Taylor Lautner?
Here you find the height of Taylor Lautner.
The height of Taylor Lautner is
5ft 11.7in(182cm)
Do you think Taylor Lautners height is incorrect? Please tell us by leaving a comment!
Top 10 celebrities:
| | | |
| --- | --- | --- |
| slightly shorter (181cm) | same height (182cm) | slightly taller (183cm) |
Comments
Mysteries
2012-04-09
On a different website, it said that he was 5' 9''?
Mysteries
2012-04-09
Never mind, he can stay 5'11.3''
lala
2012-05-09
wow he's nice and tall
Kylie
2012-06-10
I heard that he was only 5 9 too.......
Chris
2012-06-26
This guy is 5'7-5'9 range look at his legs, no way 5'11 please. Next to Pattinson he always looks a good 10 cms shorter than him if not more.
Ryan
2012-08-09
Agree Chris, he looks 5'8''. 5'11'' is tallish and he's not.
Chrissy
2012-09-09
You know, I think that he's a little shorter than Taylor Swift, and about an inch or two taller than Lilly Collins. Maybe, but he was 4'6 at 13.
Faheem
2012-11-22
met him once and he was sorter than me by an inch and im 5'11 and he was wearing chuncky shoes too so id guess he's 5'9 at best