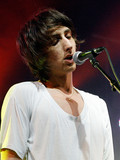 How tall is Faris Badwan?
Here you find the height of Faris Badwan.
The height of Faris Badwan is
6ft 5.2in(196cm)
Do you think Faris Badwans height is incorrect? Please tell us by leaving a comment!
Top 10 celebrities:
| | | |
| --- | --- | --- |
| slightly shorter (195cm) | same height (196cm) | slightly taller (197cm) |
Comments
Sarah
2012-09-09
Sounds about right. I'm 5'5" and I didn't realize how tall he really was until I stood right next to him. He was at least a foot taller than me. It was sort of intimidating actually. And him being so skinny makes him seem even taller. Very antisocial and camera shy boy though.